I started developing in the Salesforce world in 2012, so I've had the opportunity to learn quite a bit since my first days as a new hire. Sometimes I share my experiences with the greater Salesforce community; below are a handful of publications I've released online, presentations I've done at various user group meetings and conferences, and a selection of other web projects.
Publications
Play by Play: Battle of the Salesforce IDEs
Presentations & Speaking
April 2021: Software Development & Running (Internal Salesforce Event)
January 2018: Navigating the Salesforce Developer Community (Tahoe Dreamin' – South Lake Tahoe, NV)
January 2017: Lightning Components (Seattle Salesforce Developer User Group – Seattle, WA)
October 2016: The Dark Art of CPU Benchmarking (Dreamforce – San Francisco, CA)
June 2016: Pluralsight Presents: Campfire Tales (TrailheaDX – San Francisco, CA)
April 2016: Custom Metadata Types & Platform Cache (Seattle Salesforce Developer User Group – Seattle, WA)
---
Web Site Projects
While web design is definitely not my strongest skill and I would never call myself primarily a front-end web developer, over the course of my high school and college years I did work on a number of web sites that were unrelated to Salesforce development. (Note: Most of the web sites below have since been updated or redesigned by others.)
---
Bridges To Wellness
---
Erika Bjork – Professional illustrator and a graduate of the Rochester Institute of Technology.
---
FayJan Tool Sales Co. Inc. – Located in Montgomery and York, PA, "FayJan is a premier 3M industrial distributor serving the abrasive, adhesive, tape and safety markets."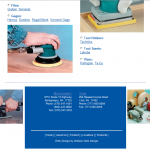 ---
Photography by David Miller – "Capture the momentous occasions in your life and keep these treasured moments forever with professional photography. Photography by David Miller gives you clear, beautifully composed and colorful shots of each special moment in your life, from graduation photos to maternity photos, wedding photos and many more. Wherever you are in your life, you can keep the moment forever with balanced, beautiful photos you will be proud to display."
---
RIT Residence Halls Association